Subscribe to our newsletter
Keep up to date on events and products and get sneak peeks into Bethany's studio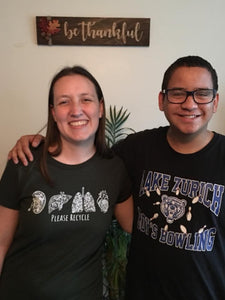 Kidney Transplant Adventure Part 1: It's a Match!
In late spring 2017 an email went out to the CERT team I volunteer with from one of our members asking for assistance with fundraising for his son Matt's kidney transplant. And all the way at the bottom of the email was a tiny "oh by the way, if you want to donate..." message. After surprising my husband with my plan (AKA asking if he would be okay with it), I called the number and got added to the list. And then I waited. And waited.
I didn't know this before, but apparently most insurances will only allow one person to be tested at a time. Ruling out the people ahead of me on the list as potential matches took ALL SUMMER!
Finally, as autumn approached, I got the call and was able to start the testing process. Because I was willing to do paired donation (i.e. if I wasn't a match for Matt I would give my Kidney to someone else who had a mismatched donor that matched Matt and he would get their donor's kidney. Make sense?) I did all the testing at once. This begins with two full days of meeting with doctors and being a human pincushion. Potential donors meet with the surgeon, nephrologist (kidney specialist), dietitian, social worker, donor advocate, and transplant coordinator, as well as having a thorough blood screening (28 vials!) for measures of health and signs of communicable diseases. Did I mention you also have your urine screened and get an EKG and CT scan of your abdomen? And then there's additional testing and consults if they find anything unusual in all those tests.
Suffice to say, it took me about a month of trekking back and forth (with my wonderfully patient and supportive husband) to the south side of Chicago (2+ Hours each way!) before the doctors were finally satisfied and I was officially cleared to donate. That was September 25th...
Follow Uncharted Ink on Facebook for the next segment!